COMMITTED TO SERVICE
CHERMIK LEADERSHIP TEAM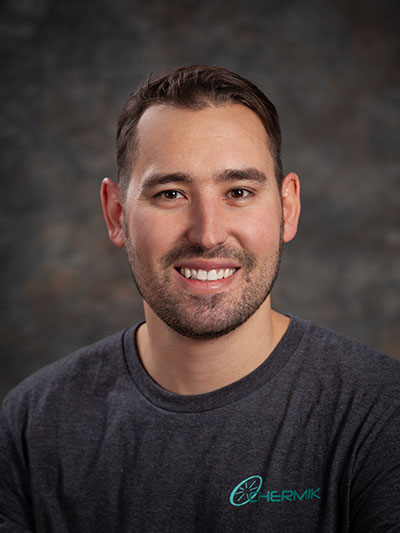 LEWIS LaRIVIERE
GENERAL MANAGER
"I have tons to learn, but also lots to teach," is the mindset Lewis brings to Chermik each day. This is the open mind and expertise Lewis uses to work hard and earn the trust of our clients, partners, and industry communities. Plain and simple, he is here to build reciprocal relationships founded on trust.
With Chermik Technical Services since 2015, time and again Lewis demonstrates his commitment to doing the right things right. This means taking the time to think things through, understanding the benefits and consequences of all actions prior to jumping in. As Chermik's General Manager, Lewis's in-depth knowledge of the electrical trade and experience in the execution of projects bring our clients greater success. When Lewis provides an approach, it's because it's the right one based on the outcomes the client wants. It's the approach that will realistically and successfully bring the client's vision to life.
Lewis believes in connecting the design of a solution to the tactical execution of electrical projects for long-term success. Supporting him in these designs and executions are his certifications as a Journeyman Red Seal Electrician and Master Electrician, along with his professional designation of PEC (Professional Electrical Contractor) through the ECAA (Electrical Contractors Association of Alberta).
Electrical isn't just a trade for Lewis. Electrical is what turned him from an uninterested student into a lifelong learner, providing him with the goal of being a part of something bigger. This is why he is passionate about the work he does through Chermik and will continue to do for greater growth and future success.
It's not all electricity for Lewis, though. He can often be found fishing, enjoying relaxing in nature, and then right back home with his family.